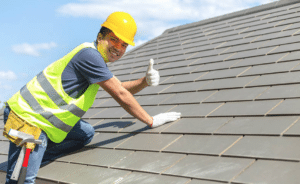 Roofing emergencies can occur at any time without warning for example when there is extreme weather such as strong winds or a storm so you would need a roofing contractor. As a homeowner, you do not want to be caught flat footed when it comes to the need for quick roof repairs.
Some of problems which may require emergency repair services include:
1. Roof Damage in A Hail Storm
Hail storms mostly occur during winter and they can damage roofs made using weak materials. Should your roof get damaged by hail, it is crucial that you get quick repairs done.
2. Damaged Roofing Shingles
Shingles typically get damaged by very strong winds or a lot of traffic on this roofing material. It is important to repair any small damage to shingles if you want to prevent further damage to the rest of your roof.
3. Leaks
During the rainy season, water can seep into your property through hard to detect areas that may be damaged in your roofing. Should you notice unexplained water in your property, it is good to call a roofing professional to find the source of the leak and carry out the necessary repairs. This is the only way that you can avoid damage to your possessions or flooding in your residence.
4. Rotting Wooden Supports
Wood used for roofing purposes can rot if it absorbs a lot of moisture and fails to dry properly. It is important to replace rotten wood as it can weaken your roofing support and even lead to water leakages in your property.
5. Missing Roof Shingles
The shingles of your roofing can be carried away if there are strong winds. Should this happen, repairs are important if you want to avoid further damage to your roof. Remember that one missing shingle can cause cascading damage effects to the rest of your roofing.
6. Emergency Damage to Your Roofing Structure
If there is extreme weather in your locality such as a storm, trees and branches can fall on your roofing and cause a lot of damage. If you want to avoid sleeping in an exposed bedroom and want to ensure the safety of your family, you have to call in an experienced roofing contractor to repair the damaged roof areas as quickly as possible.
Get all your roofing problems resolved by getting in contact with the highly skilled roofing experts at Southern Star Roofing.